Top Features
Easily mounts up to the factory door.
No modifications to carrier required.
Approximate installation time 2 hours.
Available in 2 styles, 2.5×5" or 5x5".
Fits Caterpillar Skid Steers: 226D, 232D, 236D, 239D, 242D, 246D, 249D, 257D, 259D, 262D, 272D, 277D, 279D, 287D, 289D, 297D, 299D , 272D2, 272D2 XHP, 287D2, 297D2 XHP, 299D2, 299D2 XHP, 226D3, 232D3, 236D3, 239D3, 242D3, 246D3, 249D3, 257D3, 258D3, 262D3, 272D3, 272D3 XE 279D3, 289D3, 299D3, 299D3 XE, 299D3 XE Land Management
There are two different skeleton steel front door guards, the only difference between the two is the screen spacing. They both easily mount up to the factory CAT polycarbonate door, on the CAT Skid Steer "D"
Models. Installation time is approximately 1 hour. PLEASE NOTE: These door guards are intended as a brush guard only. They are NOT certified fops/rops guard. Contact us to learn more.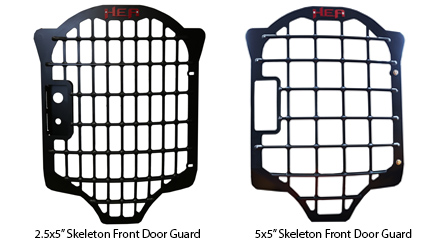 The Skeleton Front Door Guard for CAT skid steers installs easily onto the skid steer using factory hardware from your original door, including hinges, lock system and emergency escape system. Integrated push bumper system spreads weight of door over cab, keeping weight off the hinges. Contact us to learn more.

Skeleton Front Door Guard fits must "D" model skid steers. Be safe knowing you have added protection to your front poly-carbonate door.